Localversity®

Learn local lore, Local brand promotion

<![if !supportLineBreakNewLine]>
<![endif]>
Localversity® helps both residents and visitors learn more about an area.
Localversity is a platform to share experiences -- locally & around the world.
We each must deal with fundamental questions, including Why Live Where?
Localversity helps. Like it or not, places must compete for human capital, investment & tourism. We assist each locality to develop naturally & attractively as a local brand.
Next Localversity course:
( To Be Announced )
We'll make opportunities to meet both in-person & online
  Details forthcoming; Query: mindwatch@gmail.com 
We're keen to formulate how you can participate in the global growth & expansion of the Localversity network.
Some recent Localversity activities & courses:
40-year Jubileum, NÔKA International
23rd September 2023  Vasastan, Stockholm, Sweden
We participated with a brief talk in the Japanese Library, and later served the guests 'Uala Lilikoi Jerky (North African sweet potato done Hawaiian-style w/ passion fruit curd) as well as a plain 'Uala Jerky for vegans. We were able to explain the sun-dried 'uala has long been popular in Hawai'i among travelers, warriors & fishermen going to distant places. It's a nutritious snack locally linked with the god Lono, and Kamapua'a, our high-libido wild boar demi-god. Well-appreciated!
Academia Europaea International Symposium
10th-12th May 2023 Wenner-Gren Center, Stockholm, Sweden
Prof. Bruce Henry Lambert, Localversity founder, participated over three days in the program "Publishing in Academia: Digital Challenges." Discussions largely focused on open access to research and the European Plan S initiative and the repercussions. It's now increasingly possible for everyone to directly & immediately access cutting-edge global information at low or no cost, bypassing traditional gatekeepers & censorship. Experts provide useful context, but our filtering comments are often unwelcome & easy to ignore. This has been triggering big changes in publishing & broadcasting, in education, and in the wider world.
Localversity Franchising: Leveraging Local Know-How
26th August 2022  We met online at 4PM EDT Thursday (Boston time)
Localversity Franchising: We All Profit from Local Know-How
30th June 2022  We met online at 4PM EDT Thursday (Boston time)
Localversity Franchising: Richer Life from Local Know-How
15th May 2022  We met online at 11AM EDT Sunday (Boston time)
Taste of Holiday Sun: Sami & Hawaiian Local Food Heritage
4th December 2021  15:30 - 18:30
venue: North Sweden Stockholm Office, Gamla Brogatan 19, Stockholm, Sweden
Ellacarin Blind of Slow Food Sápmi teamed with Bruce Henry Lambert and Localversity, introducing indigenous foods & food handling. The original New England Thanksgiving feast relied greatly on know-how gleaned from local Wampanoag people during the Pilgrims' first year at Plymouth. We still enrich our assorted holidays with local tastes, which often emerge when sharing cherished  traditions & family meals. Prior to this course participants were to read Prof. Lambert's downloadable case study Sweden's Ice Hotel: Marketing Adventure through Arctic Ecotourism. (link) (ISBN 978-89-7182-275-3). All course participants received a free copy of the book Taste of Sápmi: Sámi Cuisine - Tradition and Innovation into the Future (ISBN 978-91-981636-2-9) sponsored by Slow Food Sápmi & Localversity. The English Speaking Community Club, ESCC, partly subsidized the day's program. (This continued our course program begun under the auspices of the American Club of Sweden Intercultural Forum held at Sweden's National Museum of Ethnography). We explored little-known tastes such as Sami Smoked Reindeer sausage & Gáhkku ember bread, Hawaiian Lomilomi salmon, Green papaya salad, and Baked taro root, while learning directly from cultural practitioners. 
Cultivate Well-Being by Place Marketing: Localversity
20th November 2021 Okuma Salon KIVANCSI; Stockholm, Sweden
We discussed & questioned why we live where we do, and personal mobility. After introducing Destination Marketing, we looked at how & why regions compete for talent. We looked at assorted cases, including the value of controversy. We reviewed the structure, background, and aims of Localversity.
<![if !vml]>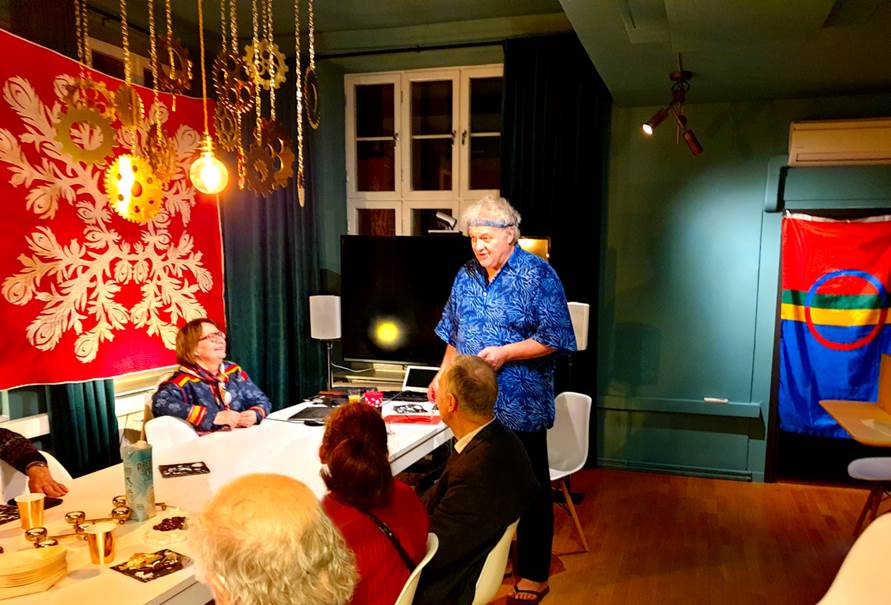 <![endif]>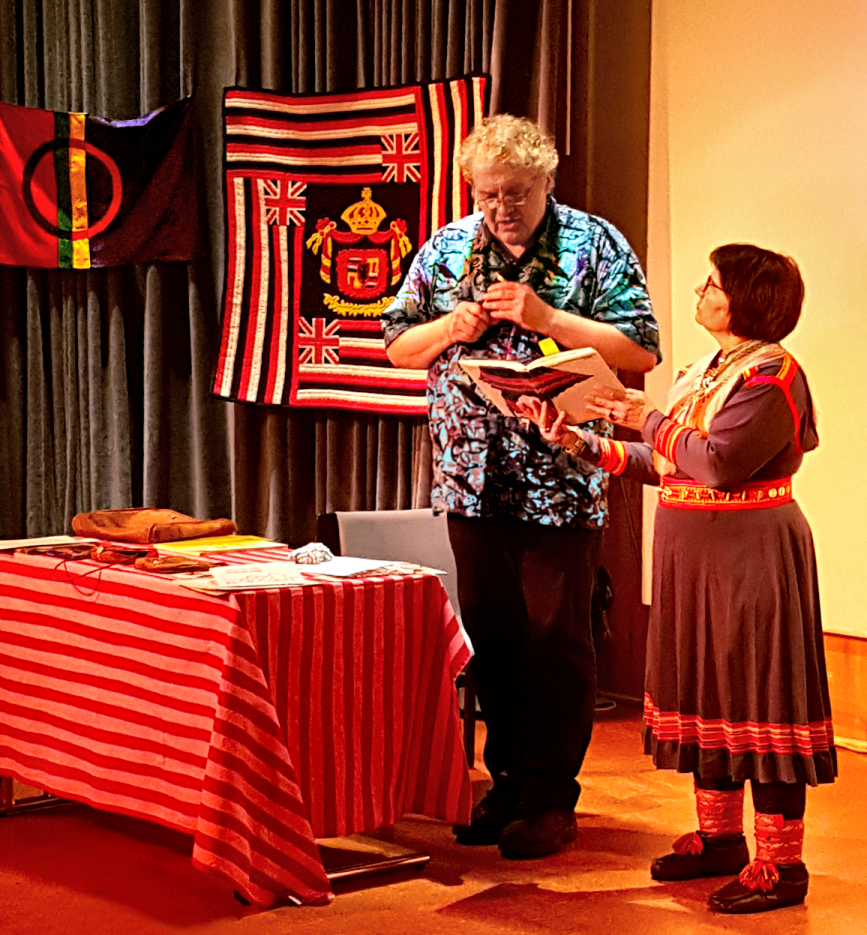 Online Localversity resources:   Web-based education & past course study materials
•  Place Marketing 101: Places are in Competition ... Why Live Where? (link to .pdf file)
•  Economic Geography: Develop a Virtuous Spiral - or Suffer Decline (link to .pdf)
•  Localversity - Hosei University Course on Destination Marketing & Place Appeal (link to overview)
•  Positioning Korea for Sustainable Success: A Nation-Marketing Summary (link to .pdf)
•  Marketing Mikkeli & South Savo: The "MyMikkeli" Place Appeal Courses (link to overview)
Place marketing strategies, successes & failures: Case studies by Prof. Lambert of Localversity:
•  Termeden Spa : A Promise of Wellness in Korea (link to .pdf)
•  Ice Hotel : Expensive Arctic journey to sleep on a bed of ice? Why? (link to .pdf)
Welcome to use these cases teaching hospitality studies, tourism business, place marketing, etc.
Localversity is founded on a complex global strategic vision.
  Implementation is costly!  We make steady progress.
Please be patient... and if more interested, contact us!
Local franchise operations to be launched soon.
Here's Our Vision: Via five iconic courses we explore & reveal each local environment.
Find why each locality is special from viewpoints of nature, economy, history, foods, etc.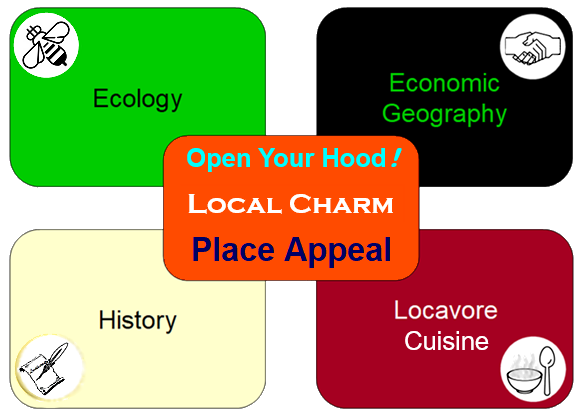 Our Local Charm course introduces the prime importance of Place Appeal,
rooted in key local examples & fully elaborated in the other four courses.
(We seek sponsors so each Local Charm course can be accessible online)
Five courses, individually-tailored to each unique locality.
For example, analyzing & promoting Winthrop Massachusetts, USA:
or to understand Stockholm, Sweden:
Experience More with Localversity when visiting anywhere new.
Recent migrants & old-time residents:
  •  Have Fun discovering little-known dimensions of your home territory
  •  Have Fun meeting your neighbors & curious visitors from elsewhere
Do you really know your hometown?  Open Your Hood!
 -- Local Charm: Place Appeal
 -- Local History
 -- Local Ecology
 -- Local Economic Geography
 -- Locavore Cuisine
Streetwise local? Enroll in one or more of our teaching faculties:
 -- Artistry Faculty
 -- History Faculty
 -- Ecology Faculty
 -- Economic Geography Faculty
 -- Professeurs de Cuisine
We will offer comprehensive teacher validation training, often individually-designed.
Localversity faculty will all have completed our Understanding Well-Being program,
  clarifying the key Localversity policies of mutual respect, hospitality & well-being.
Celebrate Diversity: All kinds of people are needed to build a strong community.
We are a catalyst for local people & resources. We're employer-friendly, while also ecologically aware. We recognize need of local jobs and a wholesome environment. We work closely with local school systems to create local-focused study units, and help school teachers deliver meaningful curriculum. We support artisans & local creativity, and deliberately avoid micro-management. Local grass-roots networks generate fun & discoveries. We've interest in the present-day, the recent past, the long-forgotten, and the prehistoric, while firmly facing future opportunities. Localversity students grow to understand important dimensions of their hometown's economic geography, and the competitiveness of places they visit... while continuously having fun. Learn Synergy, where  1 + 1 = 3
We work effectively with both existing operations & new ventures.
Experience new vigor & more opportunities by building Local Place Appeal.
| | |
| --- | --- |
| We Beg YOU: | |
Join us !
Meet new friends, Enjoy local fun
Dr. Bruce Henry Lambert
Professor & Localversity Development Director
mindwatch@gmail.com